ENVIRONMENTAL POLICY
| | |
| --- | --- |
| Reference No: | DAKS/EMS/EP/01 |
| Version: | 00 |
| Creation Date: | 19/02/2022 |
| Approved by: | Managing Director |
| Review date: | 26/02/2022 |
DAKS COURIERS LTD provides services including Couriers Services, Warehousing, ICD Management, Customs Clearing and Inland & Cross Boarder transportation services. We aspire to deliver all our projects and assignments on time and in full to the satisfaction of our clients with due regard to prevention of harm to people and the environment. To achieve this, we have established and maintained an effective an environment management system and we hereby commit to;
Establishing sustainable relationships with our clients and other stake holders through the understanding of their needs and delivering to expectations.
Protection of the environment, including prevention of pollution, sustainable resource use, climate change mitigation and adaptation, and protection of biodiversity and ecosystems.
Identifying and mitigating hazards, risks and environmental aspects as part of our on-going and routine activities
Determining, evaluating and adhering to applicable national and international environmental compliance obligations.
Establishing, monitoring and measurement of environmental objectives, targets and programs in order to achieve intended results.
Continuous improvement of the environmental management system to enhance environmental performance.
Employees, External providers and other interested parties are primarily responsible for working safely and ensure protection of the environment. They are further empowered to halt any work that may pose danger to them or the environment until the risk is adequately managed.
Managers, supervisors and process owners are responsible for ensuring adherence to the company's commitment to manage the environment in accordance with this Policy and for monitoring the performance of the Company with respect to its implementation.
The Managing Director is accountable for the effective implementation of the environment management system to ensure the commitments and arrangements made in this policy are regularly monitored, realized and maintained.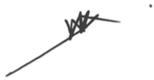 MANAGING DIRECTOR
Date: 28.02.2022